Infertility changed me.
It introduced itself in a doctor's office, ran over me with sharp and cunning negative tests, prodded me with needles, opened me up on a surgical table, taunted me with reminders of empty cribs and empty arms, and gave me lots of hope and lots of letdowns within 24-hour periods.
Infertility made me skeptical at the process that should be natural. It made me go from a crazy woman who obsesses over ovulation kits to the person who couldn't care less and became bitter at the world in certain moments. It made me hate being a woman each month. It made me hate ever trying.
Infertility sucks.
The thing about me is I've never kept it a secret. I've never wanted it to be shameful or something to hide. Women go through it–and it should NEVER be a stigma. And no woman or man should go through it without lots of support, lots of conversation, and lots of vulnerable moments and self-awareness. Without this blog to vent to, without my husband and my family and in-laws and amazing friends and social media circles I would be by myself in a locked bathroom with a minus sign on a stick, wondering why the darkness is so…dark. But there is light amongst friends.
Infertility needs to be in the light.
For my husband and I, infertility has impacted our lives for four years now. I know there are so many who have struggled longer and my heart aches when I think about it. We have done it all. Ovulation kits, weird diet plans, fertility treatments, surgeries, blood tests, ultrasounds, more tests…should I go on? And each time you hold your breath, get excited, plan the nursery…and then six months go by and it's still nothing.
Just a little while ago I have felt prompted to stop fertility treatments that we have been doing once a month. On top of that, I have been reminded of the first thing I wrote on my "bucket list" as a little girl for a school assignment in fifth grade and something that had been a goal of mine ever since. Adopt a baby. I told my husband about my desire for adoption when we were dating, and he loved the idea. At the time, we saw it as something we'd do when we were older, had a few biological kids, and had more money saved in the bank. But alas, Heavenly Father laughs when we make our own plans.
He's got something better.
I realized recently, with the reminder of my sweet husband, that the strong desire that prodded my young heart over a decade ago was the preparation I needed to recognize it when the time came. THIS is the way our children will come into our lives. THIS is the plan for us. As soon as we made the decision–as soon as we looked each other in the eyes and said this was the path we were going to take– peace overcame my heart.
I haven't felt that kind of peace in a long time.
The comments have already begun– "Don't you want your OWN children?", "Are you hoping you'll get pregnant once you adopt?"– but that's to be expected when something a little more unique happens compared to what usually happens with a young couple. But more importantly I think, is the realization that I've had SO many people deeply and genuinely care. We have already had an enormous display of love, generosity, prayers, shares on social media, and messages that warm our hearts and fill our eyes with tears. I am humbled at angels on earth. The rest doesn't matter.
The day I chose adoption–the day my husband and I came to the fork in the road and recognized the path it would take to find our baby–was the day I learned that God's will is often hidden behind our own plans. And all we need to do is ponder, pray, and open ourselves up to accepting something that may not be what we thought was originally in the cards for us.
As young kids we tend to learn that life follows a plan. First comes love, then comes marriage, then comes baby in the baby carriage. But sometimes, life is funny.
Maybe first comes love, then divorce, then love again, then lots of step kids. Maybe first comes many years of single life, then a great career, and the choice to steer clear of any baby carriages. Maybe first comes love, then comes marriage, then comes lots of struggle to get that baby for the baby carriage. Who the heck knows. Life is not a picture perfect map.
We just draw on our blank canvas as we go along and connect dots along the way.
Choosing adoption, in my life, wasn't giving up on my body or throwing in the towel. It wasn't "settling" for someone else's child. It was simply recognizing that God has bigger plans than my own, and along the way He prepared my heart for it. He built in me the capacity to want it. I'm so grateful for lessons like that.
We've decided to start the process now to earn funds since adoption isn't cheap. By September we're hoping to have the funds necessary to get on the list and work with the organization we've chosen to find the beautiful addition to our forever family. We've set up a GoFundMe page that is already serving as an amazing blessing for us because we can't do it alone. For us, it literally takes a village to bring in a child. And we couldn't be more grateful to be a witness to that.
I rarely ask for favors because 1) Sometimes I have too much pride and 2) I don't like using my blog as a platform for personal charity. BUT my family is my priority and I'm sharing this as much as I can to get closer to our baby. If you aren't in the position to donate I TOTALLY understand–but if you will, my biggest favor is please SHARE. Since I've kept this blog I've seen the power of social media firsthand and THAT would mean the world to me more than anything else.
Click here or below to support our Adoption Miracle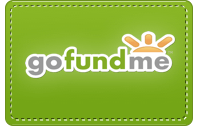 Thank you for sharing in this journey with me and for being kind enough to read, to comment, to share, and to encourage.
Infertility is one of those things that can feel so lonely, amongst so many other trials, some of which you may have right now. But together we share in it, we talk about it, we sit together and cry a little and laugh a lot. We keep walking, keep choosing to go forward, and keep choosing God's will. THAT is what makes it all worth it.
That is what I'm so thankful for.